Let's be real–the best days in school were the ones when your teacher would wheel in the giant TV on a cart and press play on these videos: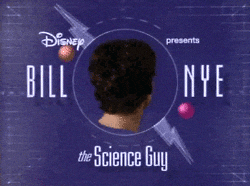 This TV show ran from 1993-1998 and is, without a doubt, one of the most awesome TV shows ever created for kids.
Bill Nye made science fun and accessible and each episode featured a different topic complete with science parody songs like "Smells Like Air Pressure" ("Smells Like Teen Spirit" by Nirvana), "Let's Talk About Stress" ("Let's Talk About Sex" by Salt-n-Pepa), and "AC/DC Charge" ("Achy Breaky Heart" by Billy Ray Cyrus).
Past the show, Bill Nye has continued his efforts to educate people about science, including engaging in a debate with creationist Ken Hamm at the Creation Museum in February of 2014.
"Wow!" you say. "This show sounds amazing! I want to watch it but I don't have a VHS player!"
Don't you worry! Just this week, Netflix started streaming "Bill Nye the Science Guy" so you can relive everything that's awesome about learning.