Something about the blending of CGI and commercials made ad execs in the 90s want to mutate children. I'm not sure what we ever did to them. Was it the Jellies? The body glitter? The inflatable furniture?
Whatever the reason, they wanted to turn us into some sort of freak show.
One of the most prominent examples has to be Capri Sun.
In nearly every commercial, a child who drank a Capri Sun would have the ability (or curse) of turning into a metallic silver puddle, not unlike The Secret World of Alex Mack.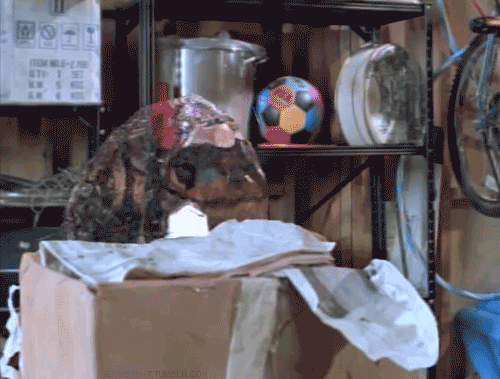 Perhaps the creepiest example of commercial mutations had to be the Gushers commercials:
This was supposed to encourage people to buy this snack but honestly, I think it did more damage than good because on some level, I think we were all terrified that we'd be forever stuck as fruit-headed freaks. Was it an irrational fear? Of course, but we also hid under our covers because murderers and monsters couldn't get us if we stayed under the blankets.
Ultimately, we had to decide whether we wanted to risk being liquified into silver goo or possibly suffer through life with fruit heads. Alternately, we could have opted for Fruit by the Foot and had our clothing come to life:
I guess we could've just eaten an apple or something but then how would we have gotten our daily intake of Red 40?